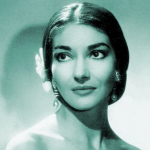 Maria Callas was born in New York City on December 2, 1923. She made her professional debut with the Royal Opera of Athens in Boccaccio, and took her first major role in Tosca.
Her Italian opera debut took place at the Verona Arena in 1947. In 1954, Callas made her American debut in Norma. During the 1960s, the quality and frequency of her performances waned. On September 16, 1977, Callas died in Paris.
Early Life
American opera singer Maria Callas was born as Cecilia Sophia Anna Maria Kalogeropoulus on December 2, 1923, in New York City. Her parents, George and Evangelina, were Greek immigrants who shortened their last name to Callas once Maria started primary school.
Callas began taking classical piano lessons when she was 7 years old, but soon realized that she loved singing music—with dramatic flair—even more than playing it. In 1937, when Callas was a teen, her parents separated and she, her mother and her sister moved back to Greece. In Athens, Maria, whose last name had been changed back to Kalogeropoulos, studied voice under Elvira de Hidalgo at the Royal Academy of Music. The school normally required that students be at least 16 years old, but the young Callas showed such great promise that they made a special exception.
As a student, Callas made her stage debut in a school production ofCavalleria Rusticana. For her dazzling performance in the role of Santuzza, she was honored by the academy.
Opera Career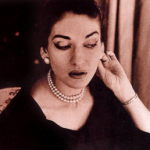 When Maria Callas was 16 years old, she made her professional debut with the Royal Opera of Athens in a modest role in Franz von Suppé's Boccaccio. In her early 20s, she took her first major role inTosca.
During World War II, Callas struggled to find roles. She moved back to New York to spend time with her father and look for work, but the Metropolitan Opera turned her down. After the war, at the urging of her teacher, Maria changed her last name back to Callas and moved to Italy in pursuit of work. In Verona, she quickly met and married rich industrialist Giovanni Meneghini.
Callas's Italian opera debut took place at the Verona Arena in August 1947, in a performance of La Gioconda. Over the next few years, under the management of her husband, Callas continued to perform in Florence and Verona to critical acclaim. Though her voice captivated audiences, as her fame increased, Callas developed a reputation as a demanding diva. Fiercely resilient, Callas said of audience members' jeers, "Hissing from the gallery is part of the scene. It is a hazard of the battlefield. Opera is a battlefield, and it must be accepted."
In 1954, Callas made her American debut in Norma at the Lyric Opera of Chicago. The performance was a triumph. In 1956, she at last had the opportunity to sing with the Metropolitan Opera in her home city of New York. Within three years of the performance, Callas's health began to rapidly decline, as did her marriage. Callas and Meneghini divorced in 1960, during which time she was having an affair with shipping magnate Aristotle Onassis.
Later Years and Death
During the 1960s, Maria Callas's formerly stellar singing voice was discernibly faltering. Her performances grew fewer and farther between, as a result of her frequent cancellations.
Though she formally retired from the stage in the early '60s, Callas made a brief return to performing with the Metropolitan Opera from January 1964 through July 1965. Her final operatic performance was in Tosca at Covent Garden on July 5, 1965.
News of Onassis's remarriage to Jacqueline Kennedy, made Callas move to Paris, France, and became a recluse.
Callas tried her hand at teaching. In '71 and '72, she conducted master classes at The Juilliard School in New York. Despite her failing health, Callas accompanied a friend on an international recital tour in 1973 to help him raise money for his ailing daughter. Following the tour she return to Paris.
On September 16, 1977, at the age of 55, Maria Callas collapsed and died suddenly and mysteriously in her Paris home.